Visitors Today
76
Visitors Since
August 11, 2005:
1,411,235
2014 Responses
Fire
EMS
Jan
40
153
Feb
35
138
Mar
0
0
Apr
0
0
May
0
0
Jun
0
0
Jul
0
0
Aug
0
0
Sep
0
0
Oct
0
0
Nov
0
0
Dec
0
0
Total
75
291
Past Responses
Fire
EMS
2013
319
1690
2012
307
1746
2011
349
1798
2010
306
1684
2009
362
1654
2008
378
1862
2007
418
1791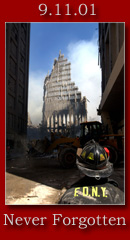 Welcome to the official website for the Mt. Airy Volunteer Fire Company, Inc. We hope you enjoy your visit. Feel free to provide feedback or comments through our online guestbook.
Click Here For Carroll County Live Fire Audio Feeds
View our VIDEO of the MAVFC in action.
Fatal House Fire on Flag Marsh Road

President Bruce Walz, March 09

On March 9, 2014 at 0814 hours (8:14 am), MAVFC and other units were dispatched for a house fire with a person trapped in the 2800 block of Flag Marsh Road. First arriving units found an "A" frame type home well involved in fire. The house was back a long (1800') unpaved, narrow driveway so hose was layed back the driveway and additional tankers were requested to provide water. First in crews attacked ... (Full Story & Photos)

Department Supports Wounded Warriors

President Bruce Walz, March 01

On Saturday, March 1st, Rescue 1 was used as the backdrop for a calendar photo shoot to benefit Helping Hometown Heroes. The group, which supports and assists returning wounded veterans, plans to use the calendar as a fund raiser. Two double amputee veterans are featured in the motorcycle themed calendar. It was truly an inspiration to all present to meet and support these young hometown heroes. More ... (Full Story & Photos)

Units Respond to Sounds of an Explosion

Assistant Chief - Fire & Rescue Ivan Browning, February 22

On Saturday evening, February 22, 2014, units from Mount Airy, Lisbon and Sykesville responded to the Nottingham sub-division for a report of sounds of an explosion.

Units arrived on the scene with Maryland State Police to find two separate addresses in the 1100 and 500 blocks of Longbow Road where low grade incendiary devices had been detonated. Units secured the scenes and checked for any injured ... (Full Story)




Fire Station Becomes Wedding Chapel!

President Bruce Walz, February 14

A local couple planned to get married on Valentines Day at the county courthouse. But due to the ongoing inclement weather, the courthouse was closed. As a back-up plan, they contacted a firefighter-paramedic who is an ordained minister and he agreed to marry them. Seeking a mutual location, he suggested the MAVFC fire station as he works with a number of fire company members. The wedding ceremony ... (Full Story & Photos)

Clear Fire Hydrants for Your Home Fire Safety

Doug Alexander, PIO, February 12

As the town and region prepares for another of winter's snow storms, the MAVFC asks that residents and business operaters make sure that fire hydrants on their street, and in front of their homes and businesses, are cleared of snow and ice when these storms occur. Firefighting water is critical, and access to hydrants is difficult when there are snow piles or uncleared hydrants. Citizens are asked ... (Full Story & Photos)

To view past news articles, you can visit our news archives page.