Visitors Today
161
Visitors Since
August 11, 2005:
1,435,330
2014 Responses
Fire
EMS
Jan
40
153
Feb
35
138
Mar
37
149
Apr
0
0
May
0
0
Jun
0
0
Jul
0
0
Aug
0
0
Sep
0
0
Oct
0
0
Nov
0
0
Dec
0
0
Total
112
440
Past Responses
Fire
EMS
2013
319
1690
2012
307
1746
2011
349
1798
2010
306
1684
2009
362
1654
2008
378
1862
2007
418
1791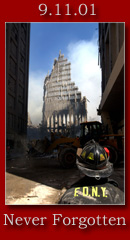 Welcome to the official website for the Mt. Airy Volunteer Fire Company, Inc. We hope you enjoy your visit. Feel free to provide feedback or comments through our online guestbook.
Click Here For Carroll County Live Fire Audio Feeds
View our VIDEO of the MAVFC in action.
Advanced Life Support Provider Opening

EMS Lieutenant Janet Woodfield, April 17

The Mount Airy Volunteer Fire Company is currently accepting applications for:

ADVANCED LIFE SUPPORT PROVIDER

Full-time

24/72 shifts

$36,608 annual salary

Paid vacation and sick leave

Applicants are required to have the following current certifications:

Maryland certified ALS provider

Hazardous Materials Operations

Emergency Vehicle Operations

Firefighter I

Applicants must have a clean ... (Full Story)




Firefighters Learn To Save Their Own

Captain Heidi Halterman, Training Officer, March 20

Often the statement is made "Firefighters are brave. They run into burning buildings when everyone else is running out." But what happens when firefighters are running in to save one of their own? This is unfortunately happens every year across the United States where firefighters are required to enter a burning structure and rescue a fellow firefighter who has become lost, trapped or involved in ... (Full Story & Photos)

Rescue 1 Assists On Collision With Entrapment

Assistant Chief - Fire & Rescue Ivan Browning, March 18

On Tuesday, March 18, at 1151 hours (11:51 am), Rescue 1 was dispatched to assist on a vehicle collision with rescue on Route 27 north of Shorty Hills Drive. Units from Company 14 (Winfield VFC) arrived on the scene and found a car that had struck the rear of a tractor trailer. There was one patient severly trapped in the car with significant injuries. Crews from Rescue 1, supported by manpower ... (Full Story)




Fatal House Fire on Flag Marsh Road

President Bruce Walz, March 09

On March 9, 2014 at 0814 hours (8:14 am), MAVFC and other units were dispatched for a house fire with a person trapped in the 2800 block of Flag Marsh Road. First arriving units found an "A" frame type home well involved in fire. The house was back a long (1200') unpaved, narrow driveway, so hose was layed back the driveway and additional tankers were requested to provide water. First in crews attacked ... (Full Story & Photos)

Department Supports Wounded Warriors

President Bruce Walz, March 01

On Saturday, March 1st, Rescue 1 was used as the backdrop for a calendar photo shoot to benefit Helping Hometown Heroes. The group, which supports and assists returning wounded war veterans, plans to use the calendar as a fund raiser. Two double amputee veterans are featured in the motorcycle themed calendar. It was truly an inspiration to all present to meet and support these young hometown heroes. ... (Full Story & Photos)

To view past news articles, you can visit our news archives page.